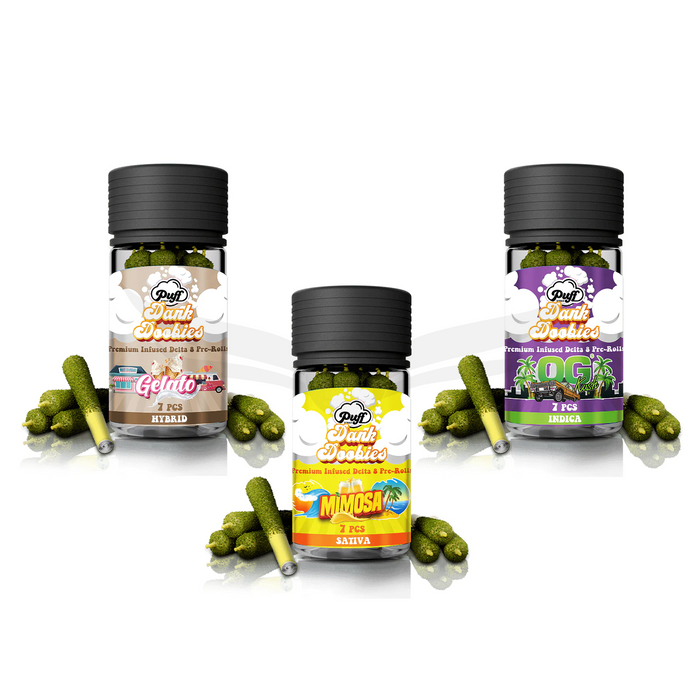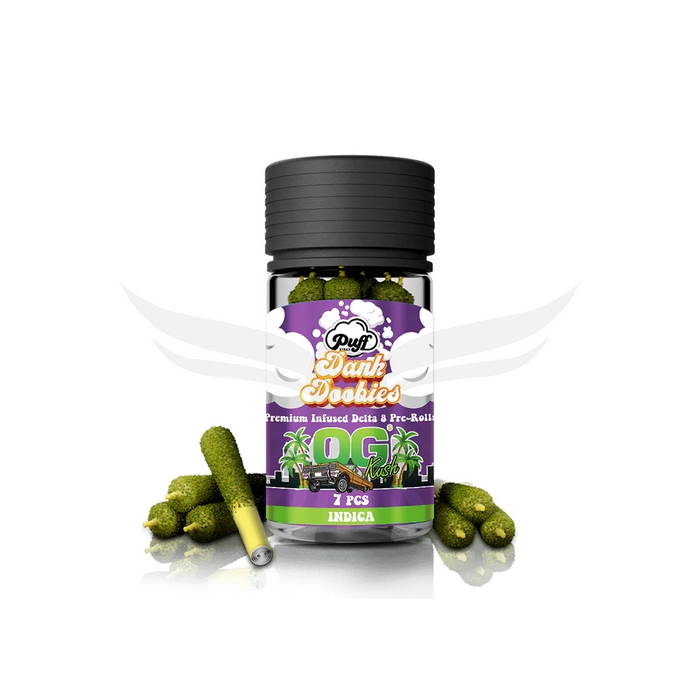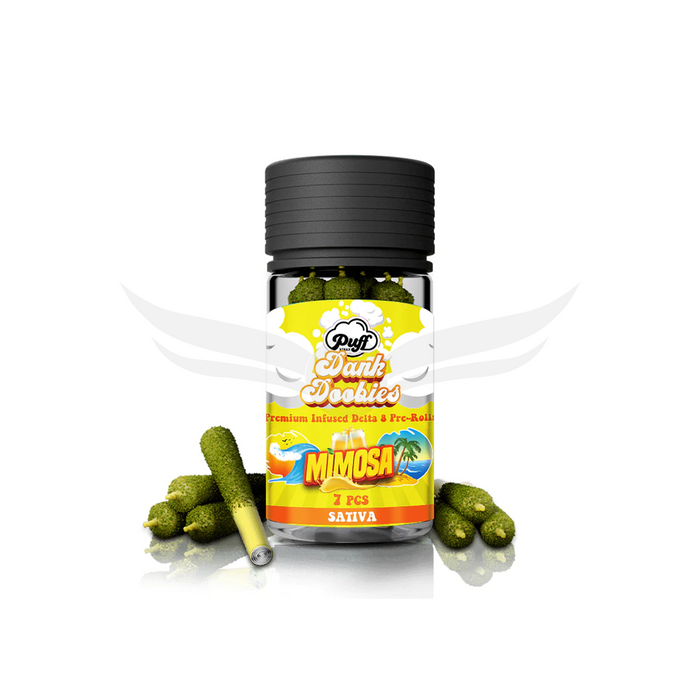 Dank Doobies Delta 8 Pre Roll 1 Jar/7pc.
Dank Doobies Delta 8 Premium infused Pre Rolls 1 Jar/7pc. 
Description:
We stand by our commitment to provide the finest, most effective Delta-8 THC products with Dank Doobies Delta 8 Pre Rolls by PUFF XTRAX. To guarantee potency and purity, each of our products goes through stringent batch testing by a third party before being put on the market.
Flavor:
A mixture with a strong indica component that is renowned for promoting physical relaxation but not to the point of couch-lock. For sustained productivity and creativity throughout the day, mental clarity is improved. Our gelato pre-rolls offer a creamy aftertaste and a delicious berry flavor.
A sativa-dominant variety that will offer you a boost in the morning and a clear-headed, concentrated day. A recent and intriguing hybrid between the Purple Punch and Clementine strains is called Mimosa. Natural joyful feelings are produced by the mouthwatering fruity, citrus flavor, along with effects that are stimulating, inspiring, and engaging.
Since the 1990s, OG KUSH a Indica-dominant variety with Kush, lemon, and pine undertones has been a fan favorite, and for good reason. Given that it has a fantastic terpene profile that is well-liked by all, this strain is perfect for individuals who want to try something new.
Features:
100% Premium Hemp Derived Delta 8 THC
Flower Rolled & Covered with CBD Kief
7-Qty Pre-Rolls, 3500mg Total, 500mg Per Pre-Roll
High-Quality Glass Jar Packaging
Lab-Tested for Quality and Potency
No more than 0.3% Delta-9 THC is present.
Ingredients: 100% Premium Hemp Flower, Hemp-Derived Delta-8, CBD Kief, Terpenes
Warning: This product is not intended for use by minors , those with a heart condition or if your a pregnant or nursing a child. 
Please be sure to educate your customers not to: 
Do not use this product if you have any health conditions.




Do not use this product if you are minor under the age of 21.

Do not use this product if you are pregnant or nursing.


Do not drive or operate any heavy machinery while using this product.
Includes:
1 Jar of Dank Doobies Delta 8 Pre rolls - 7 pieces