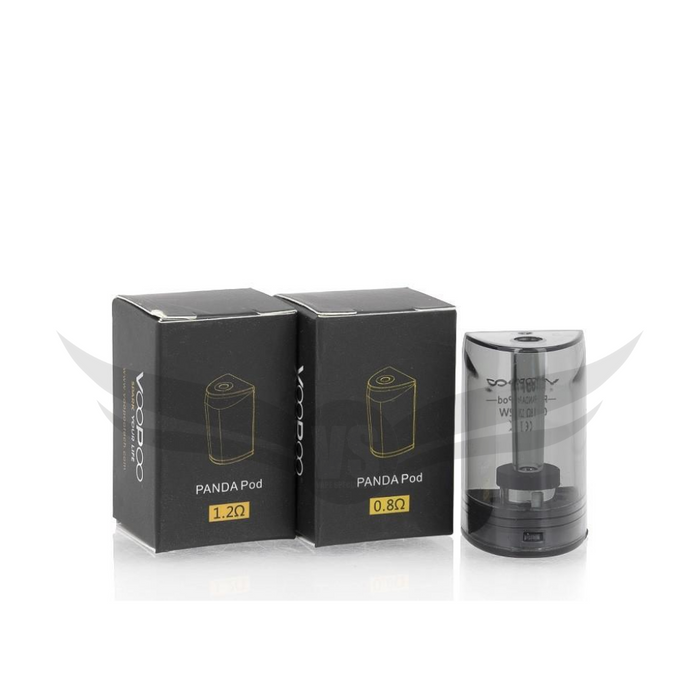 VooPoo Panda Replacement Pods Cartridges ( 0.8 & 1.2 Ohms)
The VooPoo Panda Replacement Pods are the proprietary pod cartridges that go into the VooPoo Panda Mod. They have a capacity of 5mls and with a simple bottom fill slot, the vertical juice insertion is a breeze! You merely need to flip the pod upside down, remove the rubber stopper, fill the pod, and replace the stopper. These replacement pods are outfitted to let you use both standard E-juice and Nicotine Salts! 

Additionally, VooPoo offers these pods in a 0.8 ohm version for your regular freebase e-liquids and a 1.2 ohm version for Nic salts. The pods are rated for a maximum for 12 watts for the 0.8 ohm versions and 8 watts for the 1.2 ohm version. 
Specifications:

5ml capacity
Two styles of pods rated at 0.8 ohms and 1.2 ohms
0.8 ohm pods with a maximum wattage of 12w for freebased ejuice
1.2 ohm pods with a maximum wattage of 8w for Nicotine salt ejuice
Made with Organic Cotton
Vertical juice insertion
Bottom Fed Airflow
Includes:
1x Voopoo Panda AIO pod (single pod per pack)