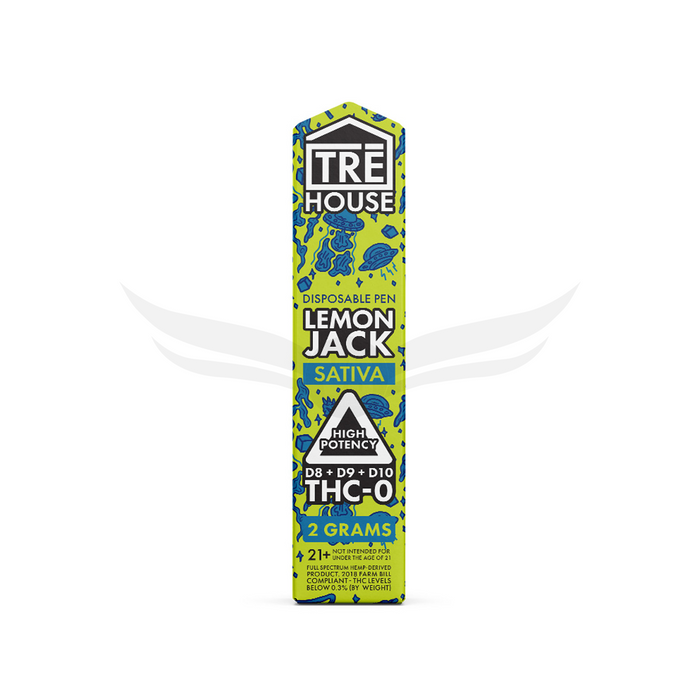 Tre House - D8 + D9 + D10 + THC-O Disposable | 2-Grams
Tre House - D8 + D9 + D10 + THC-O Disposable Pen | 2-Grams
Description: 
There are many reasons to appreciate our Tre House - D8 + D9 + D10 + THC-O Disposable | 2-Gram, but one of the reasons is that they are remarkably simple to use. Simply take the pen out of the container, place it to your lips, and inhale! All of our pens come fully charged, cannabinoid-filled, and prepared to use. Just charge the pen and return to it when the puffs start to feel a little light. When it's finished, the pen will automatically cease operating, and you can throw it away. Easy!
Flavors: 

Lemon Jack: - Sativa- Given that Lemon Jack is one of the greatest cannabis flavors available, it's hardly surprising that consumers can't get enough of this vaporizer. At TR House, we take pride in our products and created these stunning items with 1250mg of Delta-8 THC so your body feels fantastic, 5mg of Delta-9 for that powerful THC feel, 500mg of Delta-10 to keep you nice and mellow, and 60mg of THC-O for a delightfully trippy experience. Lift off by grabbing yours!
Rainbow Sherbet: - Hybrid - The Rainbow Sherbet Hybrid pen is one of our all-time favorites among the fantastic products we provide. This fantastic pen contains 1250 mg of Delta-8 THC for an excellent body buzz, 5 mg of Delta-9 for the traditional THC feeling, 500 mg of Delta-10 to keep you relaxed, and 60 mg of THC-O to slightly alter your perceptions. Pick up a Rainbow Sherbet Hybrid pen and start puffing if you adore THC and wish to feel the best lift conceivable. 
Wedding Cake: - Indica - The Wedding Cake Delta 8 disposable vape pens stand head and shoulders above the other THC vape pens available on the market. These pens not only taste identical to the well-known strain, but they also offer a lift that is unmatched by anything you have ever encountered. To help you reach for the stars, we mixed 1250 mg of THC delta-8, 5 mg of THC delta-9, 500 mg of THC delta-10, and 60 mg of THC-O. There is no better option when you want to feel a perfectly relaxed brain and body with a hint of mind-bending bliss!
Warning: This product is not intended for use by minors , those with a heart condition or if your a pregnant or nursing a child. 
Please be sure to educate your customers not to: 
Do not use this product if you have any health conditions.




Do not use this product if you are minor under the age of 21.

Do not use this product if you are pregnant or nursing.


Do not drive or operate any heavy machinery while using this product.
Benefits:

Relaxation 

Head Tingle
Elevated Mood
Body Buzz
Product info:
Rechargeable
280 Internal mAh Battery
White light while in use = activated/working
Red light = charged needed
no light when plug =fully charged
non-refillable
Contains: 
1 - Tre House - D8 + D9 + D10 + THC-O Disposable Vape (2gm)