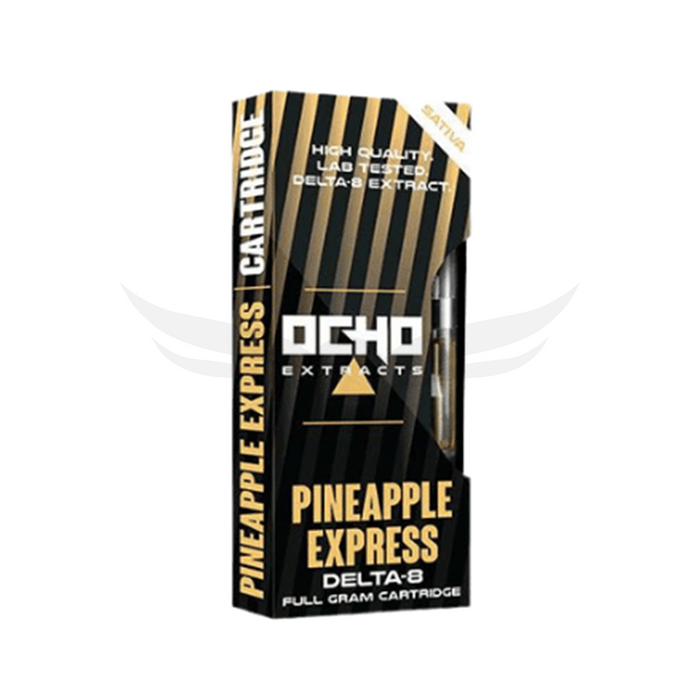 OCHO - Extracts Delta-8 Cartridge | 1gm
OCHO - Extracts Delta-8 Cartridge | 1-Gram 
Desription:
OCHO Delta 8 vape cartridges combine excellent delta 8 distillate with naturally occurring terpenes from cannabis. Utilizing genuine terpenes produced from cannabis and premium Delta 8 distillate oil, they are true to their characteristics. Per one gram cart, Delta 8 THC is 96%. *Terpenes derived from natural cannabis (CDT)
Flavors:
OG Kush -Hybrid - A

 intense hybrid classic was created from half Sativa and the half Hindu Kush giving it a mighty effect.
Pineapple Express - Hybrid - Pineapple Express generates immediate, long-lasting energy benefits. You might get a buzzy, awake, and creative feeling. The terpenes caryophyllene, limonene, and pinene give this strain a punch to the palate with vibrant citrus aromas blended with pineapple and earthy pine.
Zkittles: - Indica - This candy-flavored strain was created by breeding Grape Ape and Grapefruit with an unidentified additional Indica-dominant strain. 
Sour Diesel: - Sativa - The stimulating Sativa-dominant strain known as Sour D was given that name because of its strong, diesel-like fragrance
Wedding Cake - Indica -an uplifting hybrid strain with a high Indica content that is renowned for its calming and euphoric effects.
Warning: This product is not intended for use by minors , those with a heart condition or if your a pregnant or nursing a child. 

Please be sure to educate your customers not to: 

Do not use this product if you have any health conditions.




Do not use this product if you are minor under the age of 21.

Do not use this product if you are pregnant or nursing.


Do not drive or operate any heavy machinery while using this product.
 Features:
1 Gram, 300–400 Puffs, 96% Delta 8 Distillate, 4% Terpenes Naturally Derived from Cannabis (CDT)
High-grade, lab-tested MCT, cutting agents, and Vitamin E Acetate
Fits all vape stick batteries with a 510 thread
Rechargeable
280 Internal mAh Battery
White light while in use = activated/working
Red light = charged needed
no light when plug =fully charged
non-refillable
Includes:
1 - OCHO - Doja Extracts Delta-8 Cartridge (1gm)