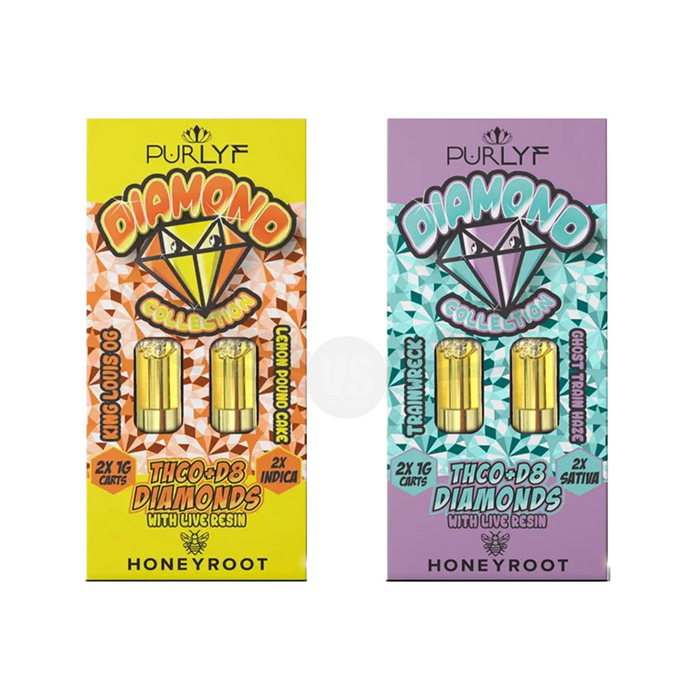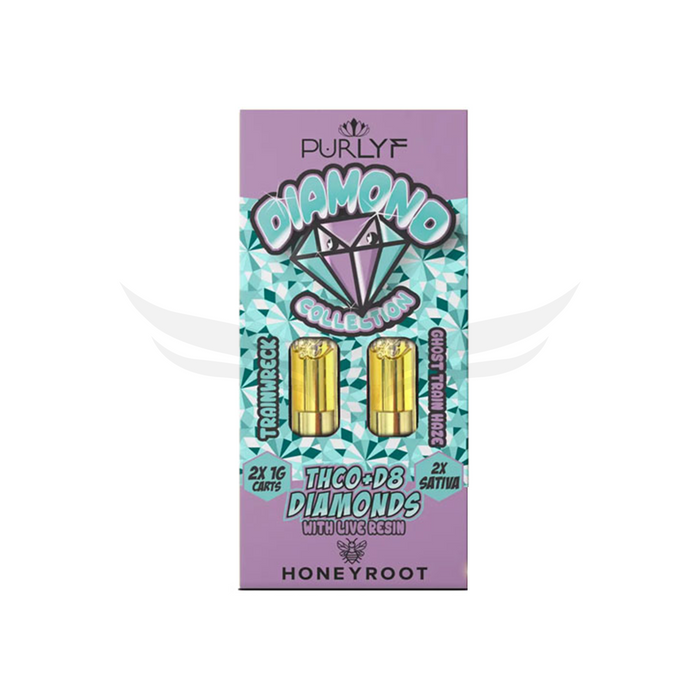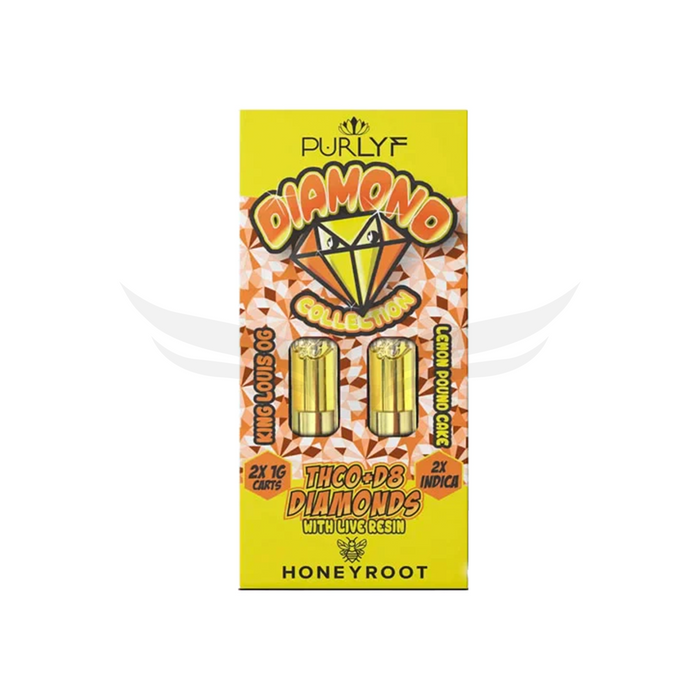 PURLYF - Honeyroot THCO Diamond Cartridge | (2x) 1gm
PURLYF - Honeyroot THCO Diamond Collective Carts | (2x) 1gram
Description: 

The Honeyroot THCO Diamonds Cartridge by Purlyf is unquestionably the best option, as it delivers a potent blend that is certain to induce a pleasant frame of mind. It is a premium vape cartridge that combines THCO and Delta 8 with live resin to provide a memorable experience.

What are Honeyroot THCO Diamonds Cartridges consist of? Honeyroot THCO Diamonds Cartridge by Purlyf is a luxury vape cartridge created through a partnership between Honeyroot Wellness and Purlyf, two well-respected names in the realm of hemp-derived products. Each cartridge contains 1 gram of THCO, Delta 8, and strain-specific terpenes with live resin. There are two cartridges per pack. Due to the fact that each box has two cartridges, you can enjoy two distinct strains. The first bundle consists of Indica strains, including Lemon Pound Cake and King Louis OG, while the second pack consists of Sativa strains, including Trainwreck and Ghost Train Haze.

While there are many cartridge options to choose from, the Honeyroot THCO Diamonds Cartridge by Purlyf is an excellent option because it comes with two cartridges and two different strains, providing you a unique experience and flavor with each cartridge. In the end, it is a 2-for-1 deal that allows you to discover even more of your preferred cannabinoids.
What Is Delta 8? 
This connection between Delta 8 and CB1 and CB2 receptors produces a full-body impact. Delta 8 offers the user with a sense of calm, clarity, and vitality. D8 reduces anxiety and insomnia, improves pain relief, and safeguards brain cells.
What Is Delta 10?
Similar to other THC-based substances, Delta 10 interacts with the body's endocannabinoid system. Delta 10, however, is significantly more psychotropic than CBD. Delta 10 is less conducive to relaxation than stimulation. This is an excellent compound for stimulating imagination, productivity, and awareness.
What Is THCO?
Tetrahydrocannabinol acetate is abbreviated as THCO. THCO is significantly stronger and more potent than other chemicals, at least twice as potent as Delta-9. THCO is psychotropic, similar to Delta 10. This complex compound provides a calming of the mind and provides the user with varying psychedelic effects, depending on the dosage. 

Flavors/Strains:
Lemon Pound Cake/ King Louie OG(Delat 8+THCO) - Indica - : The Lemon Pound Cake strain will have a sweet lemon flavor with a tinge of sourness. The King Louis OG strain features a zesty combination of citrus, skunk, and diesel flavors. Long-lasting, soothing, and tingling creating a stress-relieving effects you are sure to appreciate these two strains. 
TrainWreck/ Ghost Train Haze(Delta 8+ THCO) - Sativa - : TrainWreck is a hybrid strain created by crossing Mexican and Thai Sativas with Afghani Indica, which has a lemon and pine fragrance. Ghost Train Haze is a Sativa-dominant strain with pine and lemon citrus flavor characteristics. Having both stress-relieving properties and an uplifting and motivational characteristics, these strains will put you in a creative mood.
Warning: This product is not intended for use by minors , those with a heart condition or if your a pregnant or nursing a child. 
Please be sure to educate your customers not to: 
Do not use this product if you have any health conditions.




Do not use this product if you are minor under the age of 21.

Do not use this product if you are pregnant or nursing.


Do not drive or operate any heavy machinery while using this product.
Features:
1ml Per Cartridge
2 Cartridges per Package
Contains THCO, Delta 8, Terpenes
510- Threaded Connection
Includes: 

1x (2 Per Package) Honeyroot THCO Diamond Cartridges By: PURFLY